Author Marti Rulli Discusses Natalie Wood's Mysterious Death on Swoop's World Primetime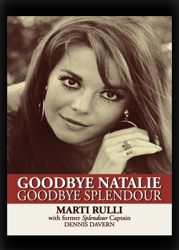 Author Marti Rulli, Goodbye Natalie Goodbye Splendour, will appear on Swoop's World Primetime on the BlogTalk Radio Network, Wednesday February 16, 2011 at 8pm/PST. Marti Rulli has spent almost 30 years delving into the circumstances leading to, and the investigation that followed the death of Natalie Wood.
Natalie Wood, born Natalia Zakharenko on July 20, 1938 in San Francisco, California and began acting in movies at the age of four. She became a successful child actor in such films as Miracle on 34th Street (1947) when she became an instant child movie star at the age of four. Wood played Susan Walker and is still remembered today as the little girl who doubted Santa Claus in the classic Christmas film.
The beautiful screen legend retained her star status as a teenager and made a smooth transition to grown-up roles, thanks to films such as 1955s "Rebel Without a Cause," in which earned her a nomination for the Academy Award for Best Supporting Actress and starred alongside James Dean.
On November 29, 1981, Wood was sailing off of Santa Catalina Island with her husband Robert Wagner, their friend Christopher Walken, and boat captain Dennis Davern, when she disappeared one evening, supposedly while trying to get into a dinghy. Wood's body was discovered the next morning and the cause of death was determined as drowning.
Today some 30 years later questions remain as to the circumstances of Woods' death. In writing Goodbye Natalie Goodbye Splendour, Marti Rulli had exclusive access to the yacht's captain Dennis Davern, who she has had a lifelong friendship with.
Marti joins Swoop's World Primetime on Wednesday, February 16 at 8:00pm (PST) to discuss her book and some glaring inadequacies in the investigation. As well as shine a light on what some may say are the effects that the power of celebrity and privilege played in thwarting a thorough investigation.
At 9pm Lisa Hernandez of Long Beach Depot For Creative ReUse joins Swoop and Peter. The Long Beach Depot For Creative ReUse is SoCal's ONLY Creative Reuse shop! Located in the East Village Arts District at 320 Elm Ave. (562) 437-9999.
Lisa will talk to us about her wonderful business as well as the upcoming Pepsi Refresh Creative Reuse Day Celebration that will be held on Sunday February 27th from 12:00pm to 5:00pm.
Join us at 8pm(PST). Listeners can call in live (917) 889-7449 or join in via our online chat. Use the "Set a Reminder Function" now and you won't miss a minute.
About Swoop's World Radio
Swoop's World Radio is a Southern California Internet radio show based in Long Beach, Ca., that broadcasts on the BlogTalk and ZTalk Radio networks Each week hosts Swoop and Peter, tap into the arts, culture, politics, entertainment, and lifestyle of Southern California.
Refusing to be locked into a specific category, the duo keep the show fresh through variety. They've interviewed politicians, citizens, musicians, community activists, celebrities, Olympic Medalist, an Academy Award Winner and more. Their primary goal is to keep the conversation insightful and entertaining.
Christopher Livingston and Taylor Nelson of LB Food Review were frequent guest joining in bi-weekly for the LB Food Review Segment. Since the launch of Swoop's World Late Night on ZTalkRadio.com they have become regulars on the late show. Taylor's segment T-Bones Timeout provides the latest is sports with often-irreverent commentary. Chris brings C-Liv's Late Night Snackin's to the show with an array of culinary options that we can't always classify as delights.